By Steve Adams
Banker & Tradesman Staff
June 11, 2015
Plans to redevelop Boston's Hook Lobster pound property into a luxury residential tower got a boost as officials released a new set of guidelines for waterfront development.  The family that owns the half-acre property at Atlantic and Northern avenues wants to build a 285-foot-tall residential tower with a 9,000-square-foot ground-floor restaurant.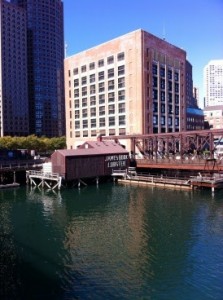 At a public meeting Wednesday, a Boston Redevelopment Authority (BRA) consultant recommended up to 260,000 square feet of development in a 305-foot-tall building covering 70 percent of the site. Current regulations limit building heights on the property to a maximum of 55 feet.
The seafood business has occupied temporary buildings since a fire destroyed the original structure in 2008.
The site is one of three central waterfront parcels where major projects are proposed. Matthew Littell, a principal for Boston-based consultants Utile Inc. Architecture + Planning, unveiled recommended maximum development guidelines for the three properties on Wednesday. Littell said the guidelines are designed to allow various development options while protecting the surrounding neighborhood.
For the Harbor Garage parcel on India Street, the maximum height of development was set at 600 feet – roughly the height of a pair of towers that Boston-based Chiofaro & Co. has proposed. But the maximum recommended development is 900,000 square feet, compared with Chiofaro's 1.3-million-square-foot plan for offices, condos, a hotel and retail space.
That standard drew skepticism from members of a citizen advisory committee advising the BRA on waterfront development and criticism from residents who attended the city hall meeting. Some described the BRA's approach as spot zoning and said it would make it difficult to stop additional high-density development on the waterfront.
"It needs to be looked at as a whole. You can't just look at the city as these little sections," said Joann Hayes-Rines, president of the Friends of Christopher Columbus Park.
Attorney Diane Rubin, who represents the trustees of the Harbor Towers condominiums, asked for studies of how the towers will affect wind patterns in the neighborhood.
Chiofaro, for his part, did not directly address whether the reduction in size is acceptable. Last year, he told Banker & Tradesman 1.3 million square feet was the minimum needed to go forward.
"We look forward to studying the plan in detail and continuing the ongoing conversation about transforming the Harbor Garage into a destination worthy of its location at Boston's front door to the world," Chiofaro said in a statement released Wednesday.
None of the committee members offered unqualified support for the scope of development allowed under the new guidelines.
The Marriott Long Wharf hotel has proposed five additions to its ground floor to make room for more restaurants and retail shops. Utile recommended the hotel be allowed to increase its footprint from 64 to 80 percent of the property.
The committee will make recommendations this summer on public realm improvements that developers will be asked to contribute in exchange for the greater density.
https://preservebostonswaterfront.com/wp-content/uploads/2015/02/Preserve_Boston370-2b-copy.jpg
0
0
Preserve Bostons Waterfront
https://preservebostonswaterfront.com/wp-content/uploads/2015/02/Preserve_Boston370-2b-copy.jpg
Preserve Bostons Waterfront
2015-06-20 18:57:50
2015-06-23 12:40:25
Hook Lobster Redevelopment Gets Boost